Concrete Jumbo Forms & Greenstrip Furring
Engineered Jumbo Concrete Forms (BBOES, MDO & HDO) that decrease installation time and save job-site labor costs. All our concrete forms are manufactured in Harrisburg, Oregon by Eagle Plywood Specialties. We also market specialty furring strips, fire retardant panels & lumber that are stable, efficient, cost effective and environmentally friendly. All our furring strips, retardant panels & lumber are treated and sealed by Exterior Wood in Washougal, WA.
Jumbo Concrete Forms
Our oversized concrete form panels allow you to enhance job-site efficiencies and reduce costs. Panels are available with either one or two good sides and constructed from Douglas Fir wood with a durable factory edge seal. Our concrete form panels allow for faster installs, fewer seams, less blocking for installation and reduction in lumber, nailing, handling and labor.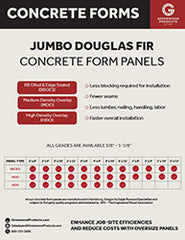 BB Oiled & Edge Sealed (BBOES)
Our BB Oiled & Edge Sealed (BBOES) panel faces and backs exceed B grade requirements set out in PS1-09 enhancing cured concrete appearance once forms are removed. Faces and backs are fully repaired and absent allowable defects such as tight knots which are replaced with 100% wood patch. All fir veneers are bonded with high-solid content marine type adhesive giving a longer bonding and adding strength to the panel.
Medium Density Overlay (MDO)
Constructed with an all Douglas Fir core coupled with select faces and backs all bonded with high solid marine type adhesives. These panels provide both the structural integrity to withstand multiple pours while providing the desired uniform smooth fnish upon form removal. The high quality resin impregnated overlay does an excellent job of masking the underlying veneer grain as well as any wood patches providing an estimated 10 uses per over-layed side. Furthermore, the overlay has improved chemical resistance and improved form oil retention enabling an easier and more thorough cleanup process.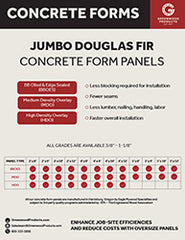 High Density Overlay (HDO)
Our High Density Overlay (HDO) concrete form panels are available with either one or two good sides. The hard, largely opaque surface of the highdensity overlay surface of the thermosetting phenolic resin impregnated material allows for a nearly polished concrete finish, largely masking any wood telegraphing through the overlay. Panels are edge sealed at the mill, however no surface release coating is applied.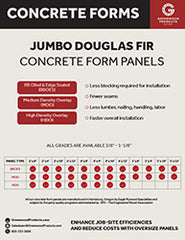 Concrete Form Available Sizes
Our Concrete Froms are cut, sealed and treated here in the Pacific Northwest by long standing trusted partners of Greenwood Products.
Greenstrip Furring
Greenstrip is an efficient and environmentally friendly choice for weather shielded above ground applications. It is pressure impregnated with preservative which increases protection against fungal decay and insect manifestation extending the life of the product making it a more cost effective solution than composite type materials. The Borates used are a safe and green choice for building projects. The EPA registered pesticides borates are approved for use where human contact occurs.