Industrial Panel Solutions
Greenwood Products provides custom Industrial solutions to many applications. Our structural Douglas Fir panel sheets with thin high density polyethylene laminates are used for many applications from commercial furniture to agricultural equipment. Our Panelam panels can be customized with smooth or textured surfacing, one or two sides and laminated with waterproof adhesives to provide non-skid and friction reducing surface options.
Panelam
Panelam is a structural panel designed for strength and durability. Panelam laminates thin, high density polyethylene sheets, either smooth or textured, to our proprietary all Douglas Fir substrate on one or two sides. It provides a stable at panel due to the balance of polyethylene application working in harmony with the balance of the plywood core. For more information and technical product specs click on the download button below for a free product sheet.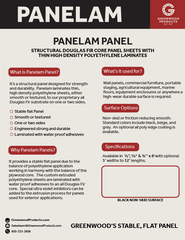 PlyDek
PlyDek is an enhanced solid laminated general purpose panel to be used in place of low grade panels when quality and long lasting performance are important. PlyDek® is used in a variety of applications where one or two solid and sanded faces are required. PlyDek® can be pressure-preserved impregnated with an eco-friendly preservative designed to resist fungal decay and protect against insect manifestation. PlyDek® is also available with a Fire-Retardant Treatment.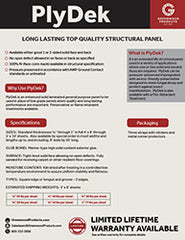 dB-Ply®
dB-Ply® dampens vibration and sound transmission at least ten times better than conventional plywood. Plywood is chosen as a construction material for its lightweight and high strength. This give it a handicap when it is also used as a noise barrier as its low inertia and low internal dampening allows sound to pass through it with relative ease. dB-Ply® increases internal damping and increases the sound transmission loss.